How to assess the quality of work socks
Reinforcements, bacteriostatic yarn, anti-static certification, but also breathability and style. Discover the features you need to look for in your work socks.
The comfort and practicality of a work sock affects our performance, especially if we work outside or in particularly humid and cold environments. What are the characteristics that make a work stocking effective? What should we consider when we want to buy a new pair of socks to use on site? Let's find out together.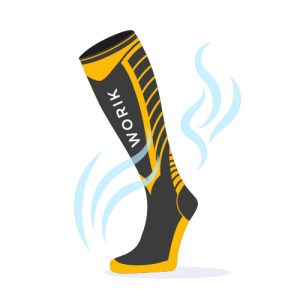 • The breathability
Breathability is a key feature to look for in work socks. Breathable socks, in fact, keep your foot dry throughout the day, avoid cramps and joint pain, prevent the formation of bad smells and help to work serenely even in difficult conditions.
• The reinforcements
Work socks are worn for the whole day in conditions of severe stress, so it is important that they are made with yarns that resist traction and rubbing. In addition, they must adapt to the foot without compressing it and without causing irritation or blisters.
At Worik we pay close attention to the durability of our products and we make reinforced work socks on toe and heel to protect the foot and give you maximum comfort from morning to evening.
• The bacteriostatic capacity
The yarns used to make work socks must be bacteriostatic to limit the proliferation of bacteria in contact with the skin and reduce the risk of foot infections. Quality work socks must therefore be made from state-of-the-art yarn or merino wool, a bacteriostatic material by nature.
• The anti-static certificate
Electrostatic charges in contact with the body can cause sparks and possible combustion. On a regulatory level, antistatic work socks are made with yarns that prevent the accumulation of electrical charges and are certified according to international standards that make them in effect protective devices in the workplace.
• The style
Even if it is work socks, choosing a product with attention to detail, attractive and modern design, improves the mood at work, helps to feel comfortable and, in the long run, affects productivity. When you need to buy your new work socks, pay attention to the technical characteristics, and choose socks that reflect your taste in style so you can wear them even outside working hours.
Discover all Worik work socks, designed to last without sacrificing style.
Discover all the models